Since 2008,
artist Allison Buttiglieri
has been an employee of Exotic Flowers in Boston. Allison has been a seasonal employee, a full time employee and senior sales associate. Her infectious personality has created a loyal floral following. Today, Allison helps out at Exotic Flowers headquarters for major flower holidays like Valentine's Day and Mother's Day.

Allison is also the Exotic Flowers artist in residence. In her own words, "
My artwork is yielded from the appreciation for the natural beauty I admire in this world. A few things that inspire me are, quirky contrasting colors, organic patterns found in nature, flowers, landscape, bohemian and vintage textile designs, decay, graffiti, travel, fellow artists, photography.
Most of my paintings on here are made from inspiration while traveling. Most paintings are available as original or prints. The prints are produced on high quality watercolor paper and look almost identical to the originals. "
Every month Exotic Flowers in Boston will be featuring some of the one of a kind pieces that she creates to inspire and appreciate.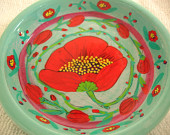 " Right now I'm really focused on these ceramic plates i've been painting. I have two upcoming Craft fairs I will be participating in, one is this coming Saturday, March 31, 2012 at the Wakefield Vocational School (Northeast Metro Tech High School, 100 Hemlock Road, Wakefield, MA 01880), and another in Winthrop at Saint John's Parish on April 14th, 2012." Hope to see you there.
At Exotic Flowers in Boston, we are always on the look out to share our vision of beauty with you. Please continue to stay in touch with our blog as we will soon have our own in house poet as well.