Yes, kids…. It's PROM SEASON! I know so many of you are getting ready to slip on that beautiful sequin dress and snazzy tuxedo to enjoy a night on the town with that special someone. Prom is a sacred right of passage for high school seniors, an evening that will live on in your memories for decades to come. Some of us daydream about our experiences decades afterwards, believing it was one of the biggest highlights of our youth. I know it was one of mine…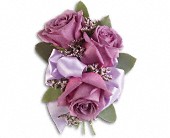 There will be photos galore to help capture this exciting time so you'll want to look your best and plan on every detail to the "T".
PROM CHECKLIST
Gown … check.

Tux... check.

Shoes… check.

Hairstyle… check.

Jewelry…. check.

Handbag…check.

Limousine…check.

Makeup… check.

Dinner Reservations… check.

Flowers…. Flowers?
So I noticed we hit a snag in our planning and may have forgot to order the corsage and boutonnière from our local florists? Well, this is just catastrophic! Who ever heard of not pinning a flower to the lapel of your handsome date or slipping on a stunning wristlet on the girl of your dreams? It's just not how things are done, people so let's make sure step #10 is covered.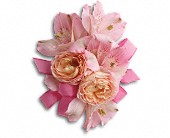 In general, the blooms are bought according to the color palette the pair will be wearing but it doesn't have to be this way for everyone. Maybe she likes orchids or her favorite flower is a rose? Select a variety that will go well with HER instead of panicking over the tint of fabric her dress is made out of. For HIM, choose something that isn't going to be too bulky because he'll lose or damage the head for sure once the dancing gets started. Think small roses, mini gerberas, mini callas or ranunculus as options and ask your florist what they advise will work well for the both of you.
Have a ball… BE SAFE and Enjoy Your Special Prom Evening!