I love flowers and I also love healthy and delicious food so when I tried out this recipe and flipped over how great it was? I had to share. This is after all, a floral blog so that not only includes beautiful arrangements but anything else that I can find that's spectacularly flowery! Trust me- this recipe makes the cut and it's super easy so anyone can make it. There are only a few ingredients and the bet part? It's low in calories and fat as well as visually pleasing.
The dish is called "Bloomin' Onions", which you may of heard of or ordered before in a restaurant. The difference between this appetizer and the others is that the frying factor is eliminated making it less greasy and healthier for your body. Pair this with a chicken or fish entrée and you'll start to see magic appear on your dinner plates. This also makes an exquisite presentation because of the rich purple coloring alongside buffet items or as a plate dressing for other main courses. Give it a try and see what you think!
Instructions: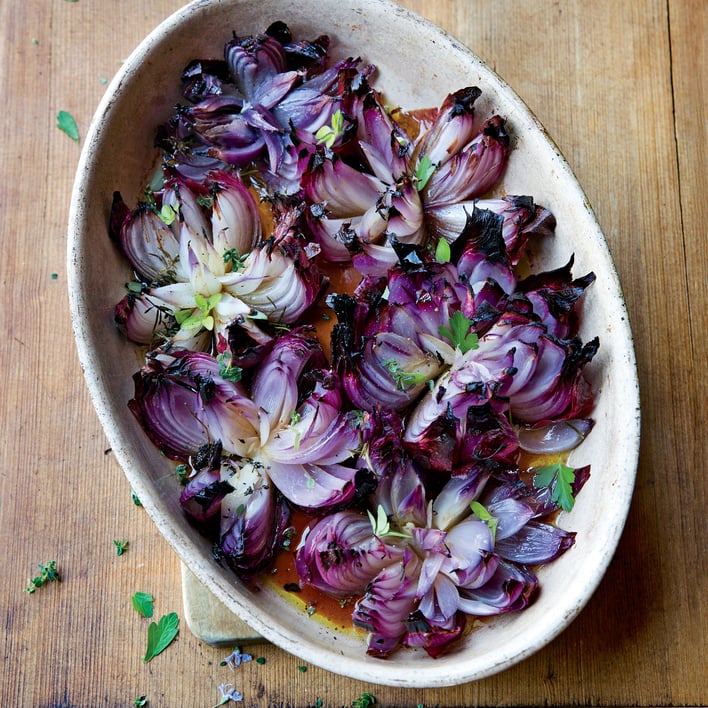 photo credit: epicurious.com
Preheat oven to 400 degrees.
Take a red onion (preferably large) and slice into eighths. Make sure that

the slices are still attached to the root so that are still held together.
Drizzle olive oil over flower and in between the petals.
Insert bay leaves and rosemary sprigs every other petal.
Sprinkle with salt and pepper
Roast for 40 minutes and eat immediately.