The cold weather has fallen upon us and Boston is getting colder by the second! Not only do we have to be mindful to wear extra clothing, bring extra safety precautions when traveling and be vigilant abut approaching storms, New Englanders also know that this is the time of year that we must protect our skin. Ailments in this area arise from exposure to frigid outer elements that attack the surface and create sores, blemishes and painful chaffing. Dermatologists recommend loading up on lotions, which heavily moisturize to prevent these serious medical conditions. As a lover of flowers, how many of you know of the amazing healing properties that many blooms carry within their biological make up? There are hundreds of flowers that are not only adequate but superior in proactive remedies for dry skin inflammations. Derived from the powerful extracts of both the petals and stems, here are a few of the top flowers that might save you a trip to the doctor's office this winter.
Lavender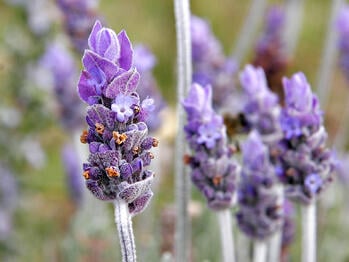 Lavender is one of the widest used flowers for healing purposes because it contains a multitude of soothing and relaxing qualities. Sometimes referred to as an herb, the stem is long and slender with small pods that look similar to a grape vine. Lavender can be found in shades of dark purple to light blue and often grow wild in the New England area. Having over 150 compounds, lavender can heal skin problems including eczema, burns, dry skin, eczema, sunburn, seborrhea and dry skin.
Calendula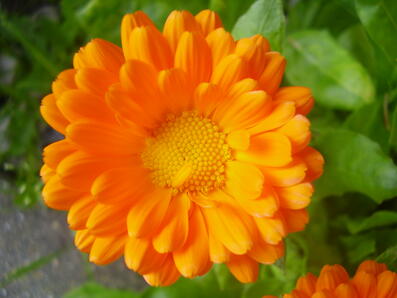 This traditional but stunning flower has a long history of protective and curing powers because of anti inflammatory, anti bacterial and antifungal features. It has been used for generations to mend severe burns, scrapes, insect bites and yes, dry skin. Grown in colors ranging from orange to yellow, the calendula is sometimes affectionately called the "marigold" in some parts of the country. The petals are also transient of the particular variety where they can be either flat or succulent. The properties of the flower are so strong that extracts can either be made into lotions or ingested directly by boiling water and mixing in the petals. One word to the wise, the safe approach is to buy the oil from a licensed herbologist instead of direct ingestion since there could be unforeseen insecticides or poisons used to grow the flowers.
Chamomile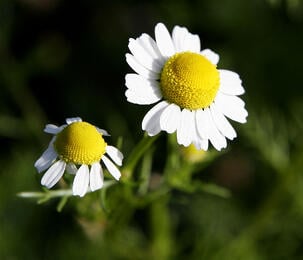 Chamomile is a favorite amongst dermatologists for several reasons including its low rate of allergic reactions in patients, it's anti-inflammatory agents and high product availability since it is grown widely in Asia, Europe and North America. The flower's appearance is delicate and natural, resembling the white daisy. Although chamomile is white with a yellow center, the extract is tinted in a dark blue, which is easily mixed to provide cooling lotions. The most popular types are German Chamomile and Russian Chamomile, the German being more astringent and more effective for healing skin irritations. The flower contains the compound Azulene, the component that makes chamomile one of the top suggested medicinal extracts for those who suffer winter skin ailments.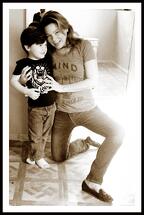 Suzie and Lance Canale, Westwood, MA 2014
Suzie grows many of her own herbs and flowers in her garden in Westwood.