Passover is a wonderful Jewish celebration where family and friends gather together to eat, laugh and be with one another. Beginning and ending from eve to eve starting Friday, April 3rd to Saturday, April 11th, preparations are already being made for this holiday where music, food and even flowers are utilized to reflect Passover traditions. Party planners suggest using color, texture and customary artifacts when planning your Seder table, which includes everything to the table linens to the lighting and settings. Some even attempt to coordinate the dishes being served to the decorations seen throughout the home to present a "unified" feel to their event. Floral pieces have customarily always been an integral part of this feast where styles range from sophisticated contemporary to authentic traditional. Whether you're looking to duplicate shades of delicacy within your vases or you simply want to accessorize the celebration with perfect blooms, here are some ideas that Boston florists are ready and able to make happen for you this Passover.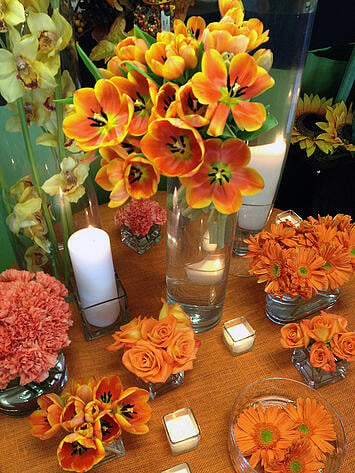 Photo Credit: Flower Factor
Selecting varieties that compliment your dinner menus have become a popular way to design the Seder table settings. Since leavened flour and grains are left out of these recipes, fabulous courses such as Matzo Ball soup, Brisket, haroset and rich cakes for dessert are most popularly made to dine on. Matching a few types of flowers to these delicious dishes not only enhances their desirability but also compliments the tones of glorious color that they possess. For example, the rich red tint of a raspberry glaze atop of brisket can be paired well with an arrangement of burgundy roses or ruby red ranunculus. Baby artichokes are also seen quite often where you can request your florist to place real artichoke heads within your centerpieces or you can pick up a few of these veggies at your local supermarket and do this task yourself. The flourless chocolate cake that is sometimes served at the end of the meal is even more decadent when placed next to a vase of white calla lilies giving the black and white appeal to the feast.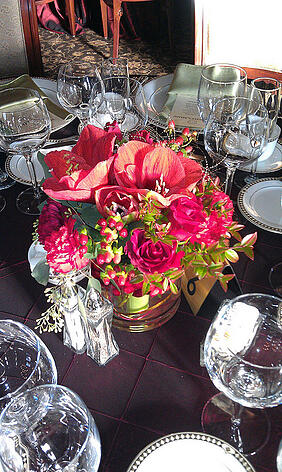 Photo Credit: Flower Factor
What if you're not into the matchy matchy look and just want to celebrate the spirit of the season within your flower arrangements? Well you're in luck because Passover occurs exactly during the time of year when beautiful harvests of spring flowers are arrive once again. There is no shortage of exquisite lilies, tulips, hyacinth and sweet peas that are promised to look stunning placed on the table. You can also arrange clumps of blossoms by color or variety, making a dramatic but fuss free impact on guests as they dine. Other suggestions are to use single stem bud vases with lily of the valley or create four to five smaller vases around the settings holding vibrant jewel tones such as delphinium, roses or daffodils.
Suzie Canale
Westwood, MA