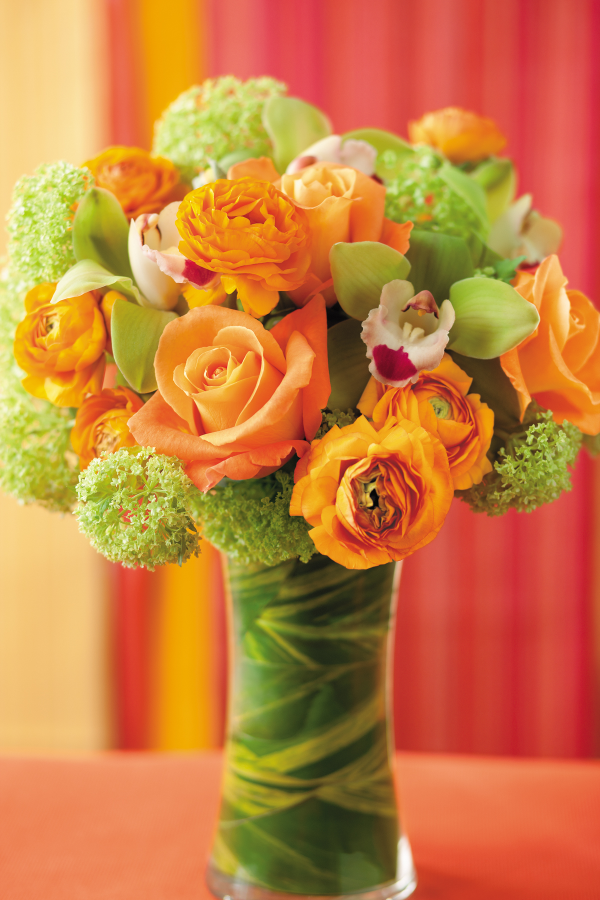 August is Happiness Happens Month Worldwide. Not that we need a month to tell us the benefits of being happy, but take a look at this press release and see how science tells us how flowers make us happier and healthier.
FOR IMMEDIATE RELEASE

CONTACT: (Rick Canale, 617.524.4456)


New University Research Proves It Can Be Better to Give Than to Receive

Gifts Say More About Us Than We Know
(Boston, MA) –
Happy birthday, congratulations, thank you, I love you, thinking of you. Each day, thousands of gifts are exchanged by people in Boston who want to send thoughtful regards to deserving friends and loved ones. According to research from Rutgers University, the presents we pick to convey our special messages say a lot about us.

Rutgers University researcher Jeannette Haviland-Jones, Ph.D., director of the university's Human Emotions Lab, explored what the gifts we choose say about who we are and whether they affect how we are perceived. The research reveals that those who send flowers, in comparison to other gifts, are viewed as successful, caring and emotionally intelligent people. More specific findings include:


Both men and women who give flowers are perceived as happy, achieving, strong, capable and courageous people;


Men and women in Boston and the entire country come across as more emotionally intelligent; they give the impression they can effectively express their feelings and take time to understand the feelings of others;


and Female floral gifters are viewed as more appreciative of beauty and nature.

"Our findings show that you can influence and change what people think of you in a significant way through the gifts you give," says Haviland-Jones. "That news is particularly important to those interested in enhancing friendships and romances, even business relationships." Whether in Boston or Belgium, flowers prove to make happiness happen.

Discovering the scientific power of flowers is not new to Haviland-Jones. Previous Rutgers University research conducted by her team found that flowers create instant delight and happiness, and increase enjoyment and life satisfaction. Specifically, upon receiving a gift of flowers, the female study participants responded with true smiles and reported positive moods that lasted for days. The presence of flowers also led to increased contact with family and
friends.

"Flowers have evolved to activate positive emotional responses from people," says Haviland-Jones. "Each bloom has the potential to put a smile on our face and sway our opinion of a friend, colleague or loved one. That's powerful."

M.J. Ryan, award-winning author of the Random Acts of Kindness book series and The Giving Heart, uses cutting-edge science to bring out the best in people. In her books, she teaches individuals how gratitude and generosity can result in greater happiness, health and feelings of human connectivity.

"Gift recipients experience compelling connections with givers, and the positive link is particularly evident in the exchange of flowers," says Ryan. "In my everyday work with individuals, CEOs and leadership teams at some of the world's top global companies, I see the powerful implications of gratitude and appreciation."

According to Ryan, a simple call to your local florist can make a big impact beyond conventional gifting occasions. Some of her favorite, unexpected gifting opportunities include surprise recognition for a job well done; an "I miss you" gift for an out-of-town family member; and an advance "thanks for hosting us" gesture before visiting a friend's house. Ideal for all your Cape Cod and South Shore visits.

"A successful person is not necessarily someone with a lot of money and material goods, but rather someone who is in tune with people and knows how to touch their hearts," says Ryan. "I can think of no other item besides flowers that evokes such positive feelings and perceptions for both the giver and the recipient."


Ryan has coupled her expertise on the power of gratitude with her love of flowers to create Random Acts of Flowers, a list of her favorite reasons to send a floral gift.

"I see flowers as a way to capture special moments and emotions in life," says Ryan. "People truly and fondly remember when they get flowers, and you will continue to feel thanked throughout your relationship long after you send them."

Here are Ryan's Top 10 Random Acts of Flowers:


One Who Makes a Difference:

Think of the carpool mom, scout leader, local volunteer or apartment doorman who makes an everyday difference in your life. A surprise bouquet from Exotic Flowers is a convenient, informal way to say "Thanks for making my life easier."



Wedding Arrangements:

When asking a friend to join your wedding party or expressing thanks to a shower hostess, ask your Boston florist to help make it special by delivering an arrangement in advance of the big day.



Best Friend Boosts:

Send a celebrational bunch of Exotic Flowers to a best friend who lands a dream job, a sibling who receives a promotion at work, or a friend who reaches a personal milestone. Show them you care about their success.



A Moment of Calm:

Help someone dealing with a hectic time in their life relax with a tranquil gift of flowers. Your Boston florist can give you ideas on soothing colors and styles, and help you deliver that "moment of calm." The recipient will be impressed by your thoughtfulness.



Life Lessons:

Surprise your child's teacher or tutor with an eye-popping arrangement for his/her desk. Ask your child to put his/her favorite teaching moment on the gift card to make a memory that lasts a lifetime.



Lifeguard Reward:

Send flowers to thank your baby-sitter or pet sitter as a surprise thank-you for safely guarding your most prized possessions.



A Beautiful Day in the Neighborhood:

Welcome a new family or delight an elderly neighbor who does not get out much with a colorful flowering plant or fresh flowers for their kitchen. It's a great way to break the ice, meet a friend and show you care.



Fresh Squeeze:

Don't wait for Valentine's Day to say "I love you." Research shows that people like to receive flowers when they least expect it. Send a surprise floral hug to make your romance spontaneously blossom. Or, on your birthday, send flowers to your mom to thank her for all she's done for you.



Delivery is in the Details:

Show your appreciation to your hair stylist who always manages to fit you in during a pinch, or your doctor who spends those extra minutes to show he/she cares.



Declare You Care:

Send a bouquet from Boston's Premier Florist to celebrate a friend who has recovered from an illness or a new mom on her first day back to work. It will be a beautiful reminder of your support and friendship.

"Flowers are the perfect expression of gratitude and appreciation, and they deliver a message with sincerity and care," says Ryan. "The new research shows that these positive characteristics also are attributed to the giver. Giving flowers is an act of kindness, and the results are anything but random."
# # #

Research Methodology

Jeannette Haviland-Jones, Ph.D., of Rutgers University, and her research team investigated the personal and perceived impact of gift-giving. The study recruited 150 ethnically diverse female study participants, who had a median age of 47. Participants studied 12 personal profiles (six men and six women), including contributions to work, charity and family, with the sole variable being the types of gifts they give – flowers, gourmet food or luxury items such as jewelry. Each profile was evaluated on positive and negative emotion, aesthetic appreciation, emotional intelligence and achievement.


About Jeannette Haviland-Jones, Ph.D.

Jeannette Haviland-Jones, Ph.D., is a professor of psychology at Rutgers University and the director of its Human Emotions Lab. An internationally recognized authority on the role of emotional development in human behavior and nonverbal emotional signals and response, Haviland-Jones has published several books on adolescence and emotion and is co-editor of the Handbook of Emotion, for which she won a Critics Circle Award.


About M.J. Ryan

Inspirational author and coach M.J. Ryan co-created the best-selling Random Acts of Kindness book series, The Happiness Makeover, This Year I Will… and several other books on giving and gratitude. An expert in human fulfillment and giving, she makes speeches and holds workshops throughout the country on positive emotions and enhancing quality of life. Ryan's advice has appeared in more than 1,000 newspapers and magazines including USA Today, The Wall Street Journal, Family Circle and Cosmopolitan. Her television appearances include The Today Show and CNN