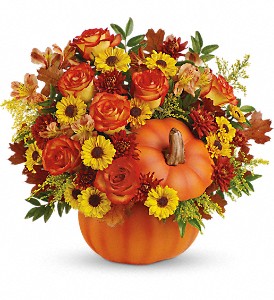 New England is famous for many attributes including beautiful coastlines, historic landmarks and a spectrum of seasonal changes. For many, autumn is many Bostonians' favorite portion of the year where sprigs of red, orange, yellow and gold flowers brew all around them. There is little doubt as to why since all of our Boston's natural aspects morph into a spectacular spectrum of color right before our eyes once the month of September arrives. From the trees to the fields, every inch of our landscape seems infused with brilliant rich and warm hues, inspiring an entire theme for design and décor. Local crafters are savvy to incorporate this gift bestowed upon us by Mother Nature, essentially adding a fresh and exciting approach to their creations. Boston florists are also taking advantage of this simple, beautiful and economically beneficial trend of designing with fall fabulous products. Try a couple of these tips to inculcate your floral propaganda!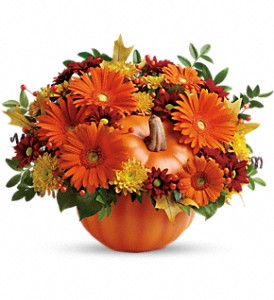 Pumpkins are not only a delicious additive to just about any dish or baked good this time of year, but also a clever way to display arrangements. Festive and fun, simply hollow out the inside of a 6 to 8 inch globe and place a bubble bowl within it. Fill the vase with local seasonal favorites such as mums, coleus, sunflowers, zinnias and lanterns to create the perfect October centerpiece. Keep in mind to never full the inner holder with too much water since overflow will hasten the aging process of the pumpkin. Another way you can incorporate pumpkins are to select miniatures to place at the base of large, clear glass cylinders (apples work too and keep in theme with the season). Smaller pumpkins age slower, minimizing a cloudy water effect over a short period of time. Suggested flowers for this type of arrangement include branches of willow, grape vine or forsythia.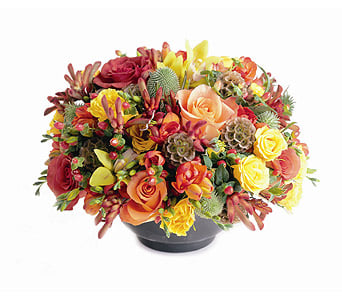 A second option for inserting a few of New England's favorite fall fauna are to select multi-colored tree branches and use them as your foliage instead of the traditional ruscus and leather leaf. Illuminating a delicate but stunning effect, this rustic style is perfect for hotel accounts where out of town visitors can gaze upon the true joy of living in Boston during autumn. Be careful not to over-busy the bouquet with uncomplimentary floral varieties or jam the vase with too many stems. It doesn't need it. Keep it uncomplicated, delicate and most of all delightful, by showcasing the naturally infused colors that Bostonians are so lucky to enjoy!
Suzie Canale -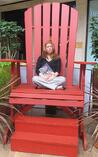 Suzie has published four children's books, is the Director of the non-profit Women's Locker Room Foundation, mother of 2 boys, an avid gardener, chef and also works at the Westwood Public Library.