Spring is right around the corner and that means summer gardening is soon to follow! During the months of March and April, it's still too cold to begin harvesting in the backyard but it is the perfect time to start planning for materials and other necessities you'll need. On your list, be sure to write down shovels, mulch, soil, plant food and any other gardening tools you prefer to use during the outdoor season, particularly the seeds you'll want to start as soon as the weather warms. Seeds are a wonderful way not only to save money but to also preoccupy the time before the earth thaws to a comfortable temperature. Select any blooms that tickle your fancy and give them an early boost by planting them indoors, inside containers set by a window. This will benefit your garden if we have a late spring arrival as well as spark their longevity once it's time to re-pot to the outdoors.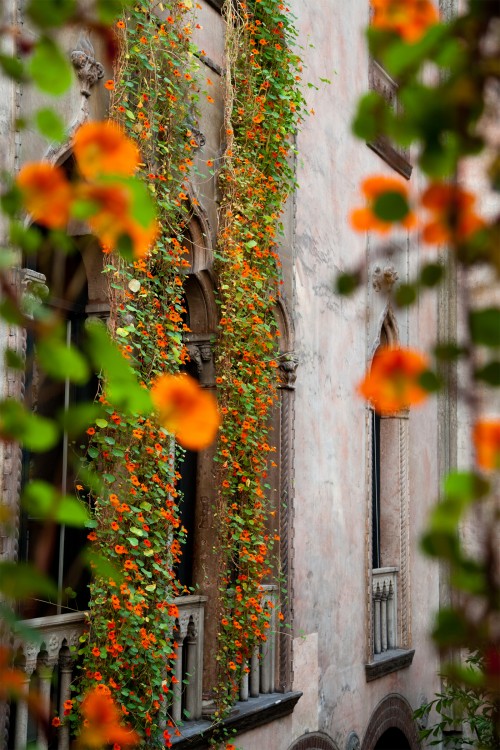 photo credit via Isabella Stewart Gardner Museum
One area pre-started indoor seedlings can become extremely useful is when they are being implemented to scale the exterior of houses. If you're a fan of this landscaping style like I am, you're probably already dreaming about the species of sensational blooms you intend to display. Do you love Morning Glories or do you prefer purple clematis to scale your home's architecture? Believe it or not, there are millions of choices available to you and most are successful no matter what the material of your house is built out of. So if you're bored with simple side plots and window boxes as your main gardening project, take a look at these stunning species that make dynamic and romantic presentations when utilized as New England floral climbers.
Morning Glories
Morning Glories are fantastic garden climbers and reproduce shoots quickly once they get going. Their beautiful blue heads are shaped like trumpets and open and close from sunrise to nightfall. They are typically annuals although they drop seeds and will re-generate the following summer so be sure you have a large enough space for them to grow maturely.
Clematis
Clematis is usually a favorite of well-experienced gardeners because it is a colorful yet dependable plant to include in your flowerbeds. Available in a wide array of hues, they are capable of climbing anywhere you train them to although they won't multiply so they can live happily in a small area of land.
Nasturtium "Flame Thrower"
Nasturtiums are my number go-to when it comes to planting seeds because they are fiery in color and gorgeous when they begin to extend their tendrils, which clip onto whatever is closest. Much like the Morning Glory, the heads are bell-like except the blooms stay open throughout the day.
Trailing Sweet Pea
Another one of my beloved varieties is the Trailing Sweet Pea, which curls itself over other flowers it's nearby with its delicate bending stems and foliage. They are soft pedaled plants and will often disappear once the heat arrives from summer but they will make a massive impact on your gardening efforts from April to late June.