Christmas is a wonderful time of year where we gather together to laugh, love and enjoy all those who are special in our lives. We do this in a variety of ways including decorating the tree, singing carols and participating in the gift of giving. One of the most time-honored traditions associated with this season is feasting, where family and friends create delicious meals with one another in the kitchen. Whether we are creating trays of roast beef, turkey, mash potatoes, carrot soufflé, gravy, cranberry stuffing or cinnamon acorn squash, we know that these special hours of preparation are some of the most entertaining moments of our celebrations. That is why I look forward to baking the deserts, which are always designed to be thematic of the joy and magic of Christmas. There is truly nothing like the smells of sugar, flour and eggs as it wafts from the oven to the four corners of the house. Can you think of a more inviting welcome for your guests? Here are a couple of my favorites to pass onto your desert plates this December.
Mitten Shaped Sugar Cookies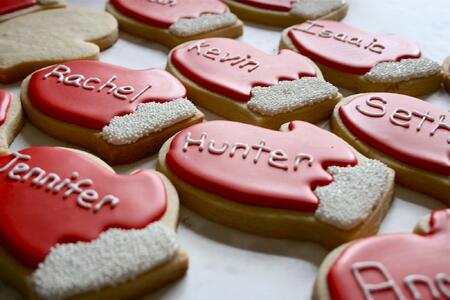 photo credit: thehungryhousewife.com
These are so adorable and are really easy to make, even if you don't have a mitten cookie cutter. Start by mixing 3 cups of flour with 1 teaspoon of baking powder and ½ teaspoon of baking soda. Crack 1 egg and add to bowl. Add 1 ¾ cup of melted butter, 1 ¾ cup of sugar and 1½ teaspoons of vanilla extract. Mix thoroughly until the consistency reaches a firm doe. Shape cookies with a rolling pin and either use a cookie cutter or butter knife to form the shape. Place in a 375-degree oven for 8 minutes. Once set to cool, spread different colored frosting over cookie for the mitten fabric and then use sprinkles to form a band around the wrist. You'll be surprised how beautiful, tasty and perfect for all holidays!
Santa Hat Cheesecake Squares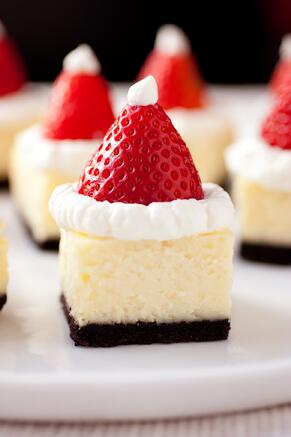 photo credit: cookingclassy.com
Oh, these are just too cute and deliciously simple! Particularly if you are looking for a last minute dessert to bring to holiday parties, this is your best bet. If you don't have time to make the cheesecake, your local bakery or grocery store is bound to carry them so don't feel guilty about cutting corners. Cut the sheet cake into small squares, about 3 x 3 inches. Take strawberries and cut off the stems leaving a nice flat surface. Place upside down with the wider surface planted on the cake to form a cone. Then use either whip cream or white frosting to seal the surface of the strawberry and the edges of the 3 x 3 square. Don't forget to give a dot onto of the point to make the white ball of the hat. Voila! You have an adorable sweet treat that Santa is sure to approve.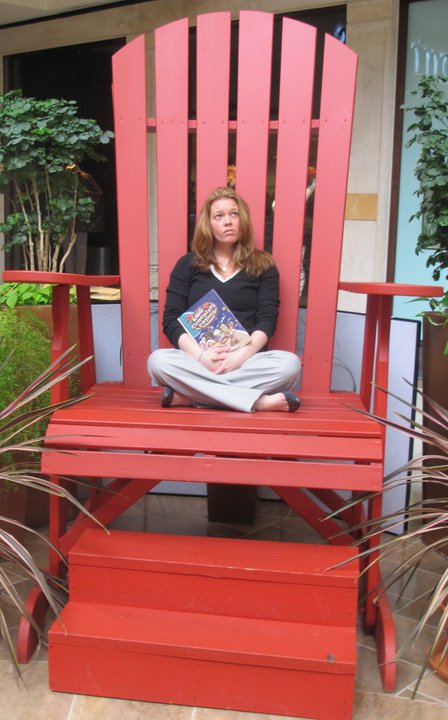 Suzie Canale, The Beantown Tales
Suzie lives in Westwood, MA with her family. She is the Director of The Women's Locker Room Foundation.