Top Floral Pieces Requested For Christmas
It's about that time to break out the ornaments, eggnog and yes, the Christmas greenery! Florists are busy this time of year with an extensive line of holiday products just perfect to spruce up your home. Worried that your budget can't handle the extra expense of centerpieces and roping? Don't be! Boston designers have all you need to fit anyone's spending guidelines. Many are actually unaware of the multitude of choices that they have access to during the month of December, holding the presumption that trees, wreathes and roses are their only options available to them this time of year. Well, nothing could be farther from the truth and to convince the hesitant floral buyers, you wont believe these stunning holiday décor pieces that I've come up with just for you!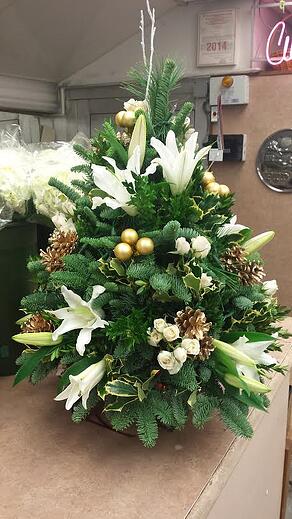 Boxwood Trees
Boxwood trees are lovely compliments to your regular Christmas decorations and provide an authentically elegant appeal for holiday parties and festivities. Produced in a variety of different sizes and themes, box trees can be purchased plain or with ornamental accessories, although trust me, they are equally as stunning. Florists are clever in they way they are constructed by placing balsam strips into a preformed structure of oasis making them durable and healthy for a long period of time as long as they are watered consistently. Box trees are perfect either dispersed throughout the home or placed in the center of the dining table, making it an excellent fuss-free option for centerpieces.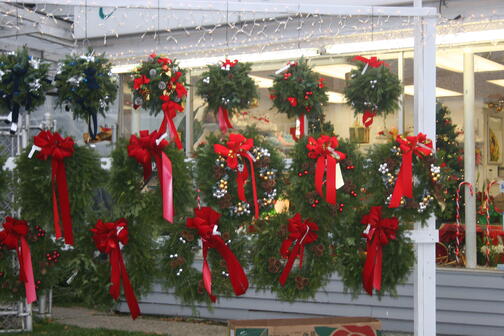 Kissing Balls
Kissing Balls may seem traditional but have remained one the most frequently requested items from Boston florists. Shaped in a ball of balsam, some designers have put their own signature stamp on the piece by adding tiny pine cones, dried flowers, white lights, ribbons and even round sparkle gems. Historically kissing balls were used to instigate a smooch from couples standing beneath one, (resembling the mistletoe effect) but nowadays, many are hung in front of houses in replacement wreathes. Again, these simple but charming Christmas florals are both inexpensive and easily maintained to last throughout the entire season.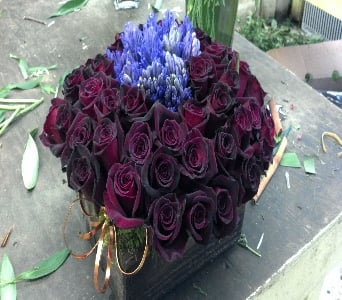 Contemporary Christmas Flowers
Contemporary Christmas flowers hold a traditional appeal but possess a modern presentation for the Christmas lover dying to create outside of the box. Most of the time, this consists of changing one aspect of the arrangement such as replacing a clear vase with a vessel wrapped in birch bark or using a bright flick of orange to break up the ho-hum red, green and white holiday palette. Berries are another wonderful option for those wanting to design a piece themselves. Since there is an abundance of pinecones, fir greenery and wild bittersweet growing naturally in the New England habitat this tie of year, these are extremely easy to find and are less expensive than some of the harder to find and imported flowers.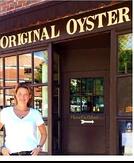 Suzie Canale, Freedom Trail Boston, 2014
You can be sure to see orchids at Suzie's home in Westwood at Christmas time.