This question can be a major problem when deciding which kind of flowers to buy at your next trip to the florist… What species are going to last the longest? Unfortunately, not even your most dedicated and informed florist can have the absolute answer to this commonly faced dilemma but we can give you some advice and tips to guide your decision. In horticulture, there are certain species that are known to have more extensive properties of longevity over others. Sometimes the reason lies behind the species durability and other times this depends on its freshness. The point is, since the variables can be forever changing, it can be difficult to place your bet on what flower is going to outlive the rest. Is it simply the luck of the draw when it comes time to placing your order? Well, sometimes but by following these few pieces of advice, you'll definitely increase your chances of taking home a "wick" package of blossoms.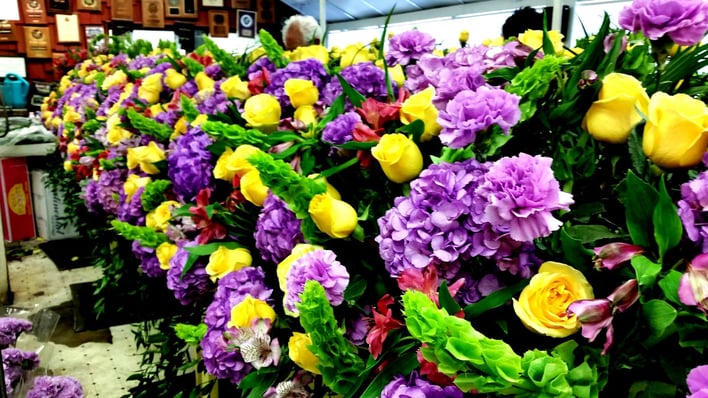 What to Ask:
You might have to play a little detective when browsing the floral inventory so make sure you follow these steps. First of all, keep your eyes peeled for moldy green water or liquid that has a bit of a stagnant smell. This is a sure-fire tip that the stems have been sitting in the bucket for over a week and you might want to keep looking. If the liquid smells fresh, then your odds are better that the florist just unpacked them and put them in water. Another thing to keep in mind is if the foliage has been already stripped close to the head of the flower. This process is called "cleaning" the stem and can mean that the flowers are being re-primped to help move them out of the store. The head of the bloom might still look good but it's a safe bet that the leaves have been removed from shriveling or yellowing. Also, be on the lookout for droopy or iridescent petals which can be a sign of age as well as missing parts of the head that may have dropped already.
Species to Keep an Eye Out for:
If your number 1 goal is to select the longest lasting flower in the shop and not necessarily a particular bloom you prefer, then there's actually a list of species that typically survive longer than other inventory on display. For example, chocolate cosmos (my favorite!) will simply not live as long as roses or hybrid delphinium compared to carnations. Of course, there's always influential factors that will elongate life spans such as whether or not it is native or if the product was bought from a pedigree supplier versus a lower grade wholesaler. Yes, there are varying effects on flowers but if you stick to this list, you're bound to have success with a healthy arrangement to enjoy in your home.
Blooms that are probable to withstand at least a week to ten days:
Freesia

Roses

Bells of Ireland

Chrysanthemums

Asiatic Lilies

Alstromeria

Asters

Gerbera Daisies

Carnations

Cymbidium Orchids